There are so many distractions now, both when you work in an office or from home. Other people can interrupt in person or on the phone, there is the lure of social media, emails and other distractions such as family when you work from home (or even the occasional animal – as you can see from my picture below!) which can cause you to lose focus.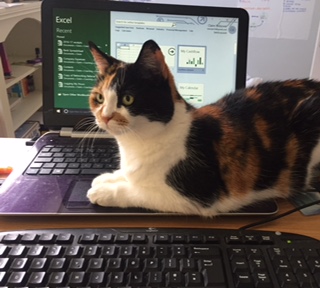 Not to mention a never-ending to-do list; mine seems to have three new things added each time I tick something off!! Anyone else find that? How do you decide what to focus on? Do you have a long to-do list? Does it include large projects as well as small tasks? How do you decide what to do each day? The important thing is knowing what works for you. I often find in my coaching sessions with clients that they know the overall picture of what they want to do but struggle with deciding what to focus on first, what's getting in their way and how they can change this. We delve deeper into what they want, understand what they can do, what resources they need and what is the next step to move it forward.
Focus is also not just about what to focus on but how to focus your mind when you are working. There can be things going on outside of work which can affect your mindset and therefore your focus. There can be times when something unexpected arises and we can lose our focus. It doesn't necessarily have to be work related, we can't shut off our feelings from life simply by walking through our 'office door' and it can be useful to know what works for us to help refocus ourselves in a constructive way. Often it's about taking just one small step to make a change to the situation and you can build on that. That's not to say you should brush things under the carpet but to acknowledge what has happened, understand what it means to you and what you can do to deal with it.
Looking at it from a different perspective may help, i.e. stay positive and see obstacles as opportunities. There isn't the saying 'blessing in disguise' for no reason; it may not be immediately obvious what it is but use a negative event to re-assess, consider alternatives and decide what will move you to your desired goal. Do something, no matter how small, to help you move forward.
If it is related to where you work, you may find going somewhere different to work, a different location, a different room in the house to simply give you a different view/ perspective may help you think differently about the situation.
For me running helps me to refocus, in fact I have used it to help me make decisions, letting my mind wander around the subject whilst I take in the views of my running route and I normally can come to a conclusion. How do you refocus your mind when you have gone off track?
The information contained above is provided for information purposes only. The contents of this blog are not intended to amount to advice and you should not rely on any of the contents of this blog. Professional advice should be obtained before taking or refraining from taking any action as a result of the contents of this blog. Claire Bolsover of Claire Be Coaching disclaims all liability and responsibility arising from any reliance placed on any of the contents of this blog.